Welcome to the Uplands Heart Tournament Women's event to be held on Wednesday, July 19th, 2017.   All proceeds donated to the Victoria Hospitals Foundation for the purchase of Cardiac Equipment.
We look forward to you joining our event this year. The field will be limited to 144 registrants on a first come, first serve basis. The maximum handicap index accepted will be 36.
EVENT DETAILS:
Registration/Lunch beginning at 11:45 AM
Afternoon Shotgun at 1:30 PM, followed by Dinner, Arm's Length Raffle, prize giving and a Live and Silent Auctions!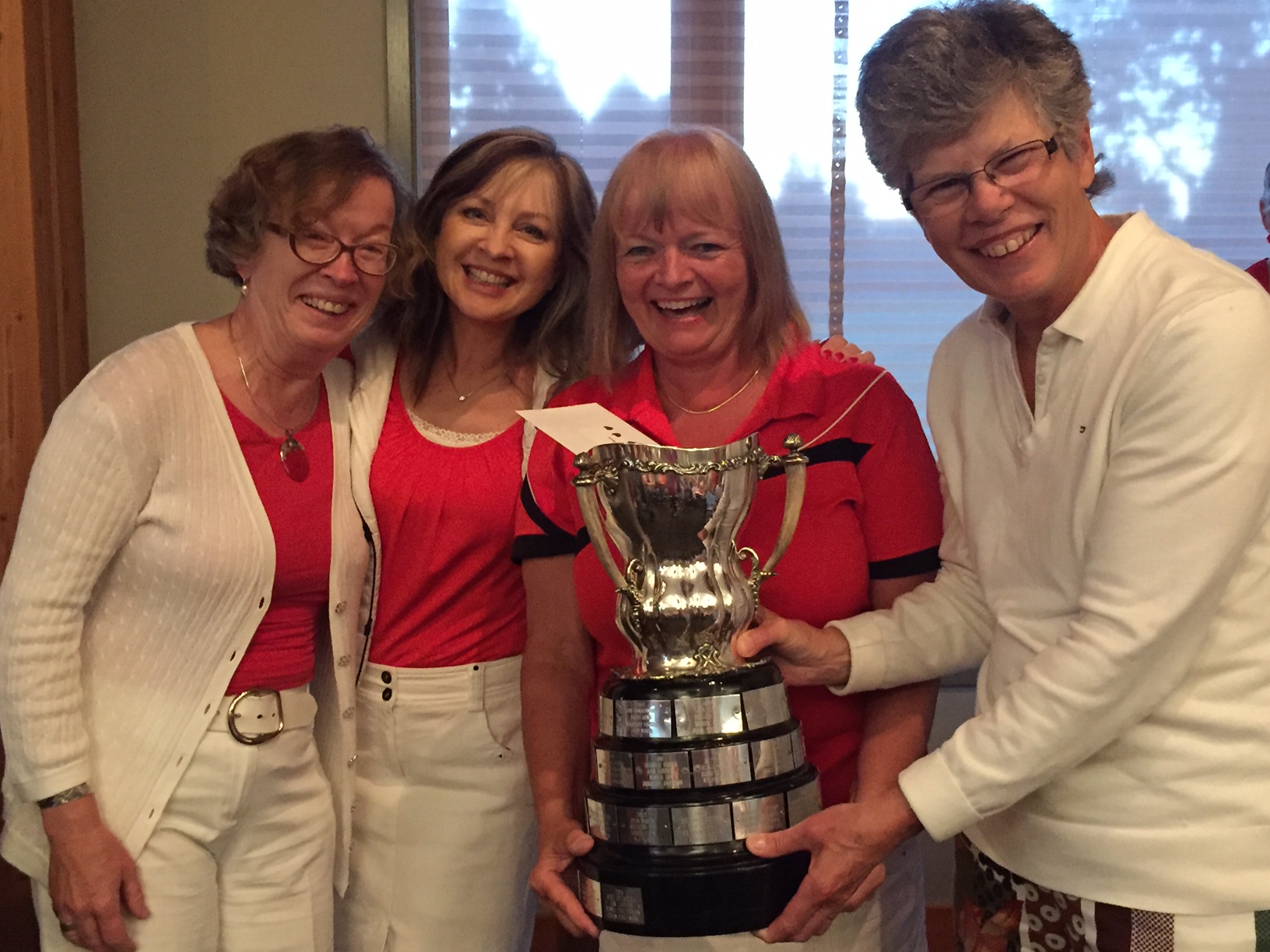 Range balls N/C – Tokens available at Pro Shop
18 holes of golf – Best Ball 4 member Team (32 teams)
Enter as a Team or we will put you on a team.
Registration and BBQ lunch begins at 11:45 AM
Shotgun Start at 1:30 PM.
Served Dinner – Menu will be posted later as a link.
Prizes awarded:  First Place Trophy – Net Best Ball Team and 2nd through 10th team prizes – ties broken by tie breaker procedures.
Contests: Long drive, KP's, Hole in One, straightest drive, inside the hidden hearts.
Free Mulligan Tee per player
Dress Code:  Red & White (optional)
Arm's Length Raffle available the day of the Tournament.
Live and Silent Auctions – an online list will be made available to registered players in advance of Tournament day, as well as the draw.
Day Schedule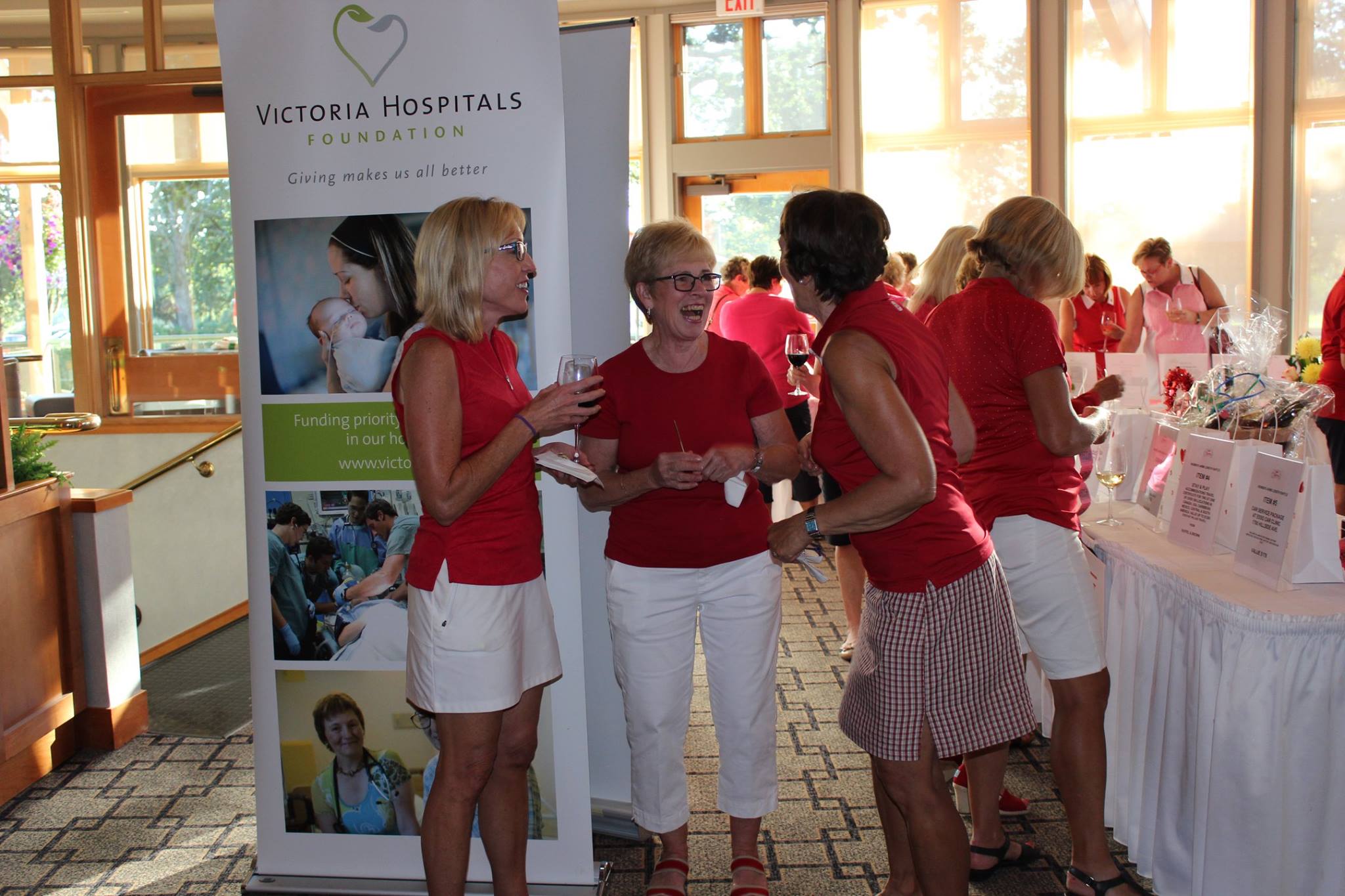 11:45 – 1:10 – Registration, Lunch, Putting Contest. Enjoy an informal Picnic Lunch under the tents presented by Red Barn. There's also a chance to win a basket of Enrico wines by taking part in the putting contest – first putt free, 3 more tries for $5.00.
1:30 Shot Gun Start. Thanks to the generosity of our Partners (Peninsula Co-Op, Merry Maids, Capital Iron, Red Barn, Prince of Whales) and sponsors (For Good Measure, Enrico Wines, Tim Horton's Wheaton Chevrolet, Action Motor Cycle), we have a multitude of on-course competitions, gift certificates, snacks, beverages, and other give-aways for you this year on just about every hole. Who knows, this could be your year to go home with a shiny red motorcycle! Our friends from Vancouver Hospital Foundation will also be on-course taking pictures, so come ready to smile.
6:00 – Appetizers, Silent Auction, and Arms Length Raffle. This year our auction team has gone out of its way to ensure an impressive array of fabulous packages for you to bid on, and our annual tradition of Arms Length Raffle prizes will also continue (12 tickets for $20). Every dollar raised through our auctions and raffle goes directly toward our donation to the Heart Health Program so please come ready to participate. You can get an advanced look at all the Auction and Raffle lots.
7:00 – 7:15 – $250,000 Shoot Out. Thanks to the generosity of Hendry Swinton McKenzie Insurance, this is an exciting addition this year. Six teams will be drawn at random and each team will appoint one member to shoot a ball from 150 yards on the 12th fairway. The first team whose ball finds the hole will take home $50,000 each and $50,000 will be donated to the Victoria Hospital Foundation for the Heart Health Program. The winning team members will also each receive a $12,500 tax receipt for this donation. What could be more exciting?
7:15 – 9:00 Dinner, prize giving, live & silent auctions. This year's dinner will feature our chef's Greek Seafood Kebob with local salmon, halibut and prawns.
Registration Fee: $160.00
Register Online You have the option to pay by cheque or credit card.
Download the printable registration form
For added convenience this year, we are continuing with the online registration system to pay by Credit Card or Cheque, or alternatively download the Registration Form complete and mail in.
Deadline for all entries is July 14th, 2017.  When field is full, a wait list will be generated for you to continue to sign up in case of cancellations.