The Men's Heart Tournament will be held on Sunday, July 23rd, 2017 and is a keen competition but also loads of fun!

Schedule Highlights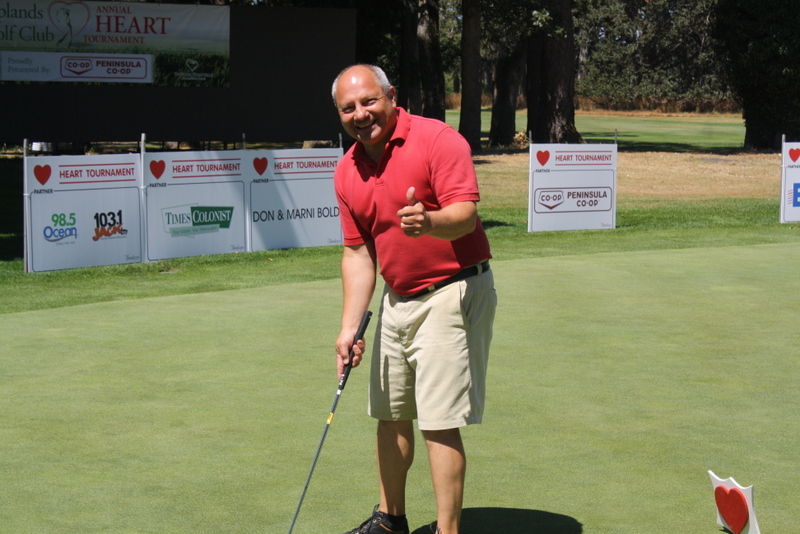 Registration will be open at 10:30 for those who want to practice. All players are asked to check in.
At registration team captains will receive:
• Score cards and scoring instructions
• Details of the $500,00 Shoot Out*
• Details of all of the on course events
(Note: there will be a captains meeting on the putting green following lunch)
Deuce Pot
At registration, all golfers will be given the opportunity to participate in a "deuce pot".  The cost will be $20 and half of the total deuce pot will be distributed to all golfers recording a gross score of 2 on any hole with the remainder of the pot going to the tournament proceeds
*$250,000 Shoot Out
Thanks to Hendry, Swinton, McKenzie Insurance we will be holding a shoot out for $250,000. A hole in one benefits the team and the charity. The shoot out will be at 7:00 during the reception. Six teams will be drawn randomly and notified when they register.
Lunch is at 11:30 and the shotgun is at 1:00 p.m.
Reception at 6:30 and dinner at 7:30
In the evening in addition to the live auction we will also have many items offered in a silent auction. There will also be a raffle of a number of interesting and valuable items.  In addition to cash or cheques we will accept MasterCard and Visa.
The tournament will, as in the past, be a "two best ball" with prizes based on low net.  (Blue handicaps) We have included a number of on-course events this year to test your skill.
Everyone will leave with a tournament gift.
PLEASE NOTE: You can register individually and we will add you to a team or you can request to play with others in a team of up to five players. Each team player must register individually. Team registration deadline is 10 July. 
You get full value for your tournament entry fee of $175/player.
Register Online You have the option to pay by cheque or credit card.
Download the printable registration form
Deadline for registration is July 16, 2017.  If field is full a waiting list will be established online,first come, first serve in case there are any cancellations.